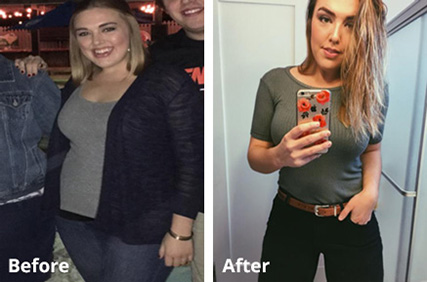 "The day I entered CrossFit Los Feliz, I remember thinking it was time to radically change my body. I'd never weight lifted before, but I knew I was capable of so much more than what little care I was providing for my health. For two years I had become so career-driven that I had forgotten what it was like to set personal fitness goals for myself. Within the few months I have been a part of CrossFit Los Feliz, I have developed different eating habits to cater to the workouts throughout the week, but having the motivation from the coaches on a daily basis is what pushes me even further. I'm eager to see where this journey of newfound strength takes me. There's no turning back now.
Thanks for the encouragement, and confidence CrossFit Los Feliz has provided. You truly have excellent trainers that care about seeing each individual become a better version of themselves. That means the world."
– Emily Hale
---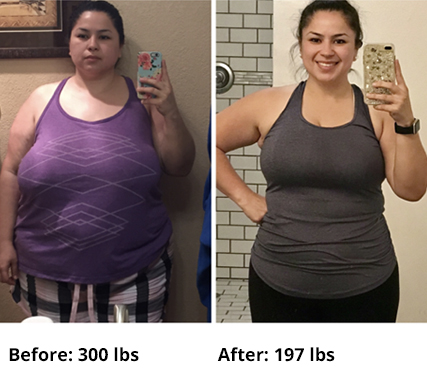 "I officially started and became a member at CrossFit Los Feliz in May 2016, since starting the Challenge here on February 3rd 2016 I have lost 43lbs. I've never lost weight in such a healthy way. I can see that I've improved overall, I noticed that by increasing my physical strength, my professional life has improved because I can physically do harder things and I can handle more challenging things in my life.
All I can say is, don't worry about what other people are doing, worry about yourself. Modify the workouts as needed but remember to push yourself because we all start in different places."
– Jenn Reyes
---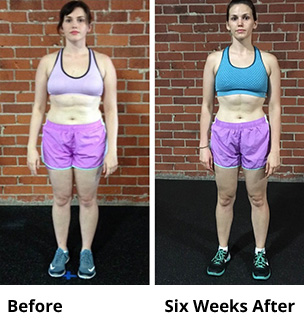 "When I joined the Six Week Challenge at CrossFit Los Feliz, my percentage body fat categorized me as obese, I couldn't run a quarter mile, and I'd been yoyo dieting and failing all attempts at maintaining a regular workout routine for years. The Six Week Challenge and my time at CrossFit to follow has forever changed my life! I've dropped 14.3% body fat, am running faster and further than ever before, and have finally found the activities and super fun support group I've needed to maintain a stable, healthy lifestyle."
– Jules W.
---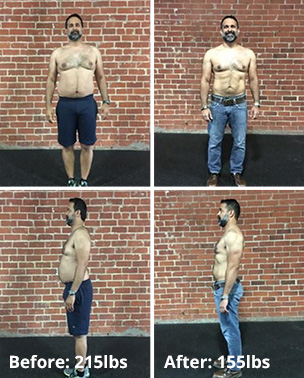 "I walked into Crossfit Los Feliz in March of this year weighing 215lbs. On a 5'6" frame, it was not pretty. The running joke in my family was, "Dude, when are the twins due?" I was already depressed, and my body made me feel suicidal. I had tried exercising in so many ways in the past, only to burn out, lose motivation, give up because there were no real results. I really had no hope when I entered the Los Feliz Crossfit Six Week Challenge, but I figured, "What have I got to lose?" I was assigned to coach Steven Mena. And from the minute we met, he was inspirational. One of his first questions was, "What is your goal?" I looked at his broad shoulders, I could see his six pack beneath his tight T-shirt, and I said, 'Well, I'd like to be you.' He smiled disarmingly and said, 'I want to be YOU!'
At the 10th week, Steven encouraged me to enter into a competition. I said that I can't afford to get injured. I'm 45 years old. Most injuries would put me out for two whole weeks. He said I can do this. I got through the 'Three Heat' competition, and I did well. I rewarded myself for that by taking a trip to New York. I weighed myself before the trip: the scale read 170lbs. No wonder I felt sexy.
I'm down to 155lbs as I write this. Steven and I are working on new goals for me. And I don't know if I'll ever reach them, but it's sure gonna be fun trying. Does it cost a lot to train with Steven? Maybe, but not prohibitively. In fact, I was spending quite a bit on prescription medication, dr.'s visits, junk food, therapy, you name it. I'd rather put the money into my body and my health. Obviously, I could go on and on. There's so much more to tell. But the bottom line is that I am a totally new person, in love with my body and full of the energy that is hope. I thank many people for it. But Steven comes first.
Sí, se puede."
– Naveed
---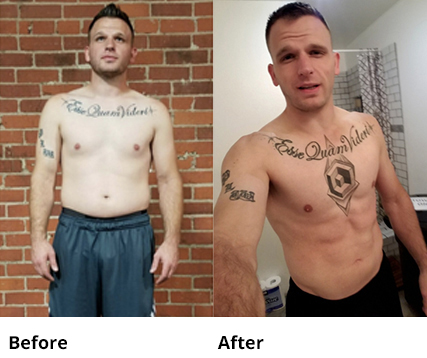 "A year ago today I joined a challenge class at Crossfit Los Feliz that I had seen an ad for on Facebook. I had a gym membership at that time but I was over 200 lbs and was not getting results in the typical gym setting. Especially seeing as I moved here from Minnesota so my social circle was small and lacked any gym buddies. I was eating and drinking like crap, and just felt terrible and unhappy.
"In the early part of the challenge class my coach, Pamela Matew instructed us that we would be doing progressions for strict pull-ups. My big mouth said, "Who can't do a pullup!?" Pam, being the amazing coach that is, called me out on it. "Patrick is going to show all of us how to do a strict pull-up. No kicking, no reverse grip, just a wide grip strict pull-up." I failed. I couldn't do one strict pull-up. I was so embarrassed that I was either going to quit and never go back or I was going to bust my ass so I never felt that way again.
"That was the relationship that developed between Pam and I over the next six weeks and now a year later. Sometimes we bumped heads, but I appreciated her and all that she did to help me on this journey.
"Thank you also to Ryan, Steven, Eric, Ira, Bella, Megan and Guy! You have all helped, pushed, encouraged and got me to where I am now. I can't wait to see where I am in the coming years!"
– Patrick Wirtz
---
"When I walked through the door of CrossFit Los Feliz for the first time, I was at the unhealthiest point in my life. I knew I needed a drastic lifestyle change, but I was clueless on how to begin.
"One year later, I'm the fittest, healthiest and happiest I've ever been! CrossFit provided the means for this to happen, but the wonderful staff and members of CrossFit Los Feliz provided the expertise, encouragement and camaraderie to make it a reality.
"Joining this community was the best decision I have ever made. This place has changed my life. I am a new man."
– Peter N.
---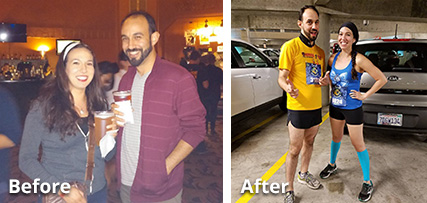 "I started the challenge at CF just to try something new but didn't intend to commit beyond the 6 weeks for multiple reasons. During that time however I met some really cool women [it was an all female group], had a super motivating and funny coach, really enjoyed the feeling that came from lifting a barbell, and felt like 6 weeks just wasn't enough time to really see what my body was capable of. I just decided to take things week by week and as I saw progression I was even further motivated to keep going. It's funny to think about how I distinctly remember holding back a squeal of excitement moving from the little sexist pink bar to a batman bar...At a 55 pound back squat I was so thrilled I asked my friend to take a picture of me on the down low haha...I've definitely come a long way from my baseline. And besides numbers, my energy level has increased dramatically. After my morning workout, I'm on this wonderful high which has led my coworkers to ask me on multiple occasions what kind of coffee I drink because they need that kind of start to their day :) What's been especially wonderful about the experience and I feel pivotal to my consistency here, is that the CFLF group-coaches and members -are really supportive and fun. There have definitely been days where the idea of seeing friends (and not working out) is what got me up and in the car. For that, I'm so grateful and I'm really looking forward to seeing where I'll be another year from now."
– Rebecca P.
---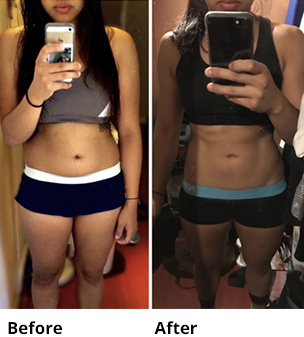 "I started my journey at CrossFit Los Feliz on May 17th, 2016. When I came here I was just wanting to slim down and improve my stamina, but the longer I was here my goals definitely shifted. As I went on, I definitely improved my stamina and then transitioned to a new goal of wanting to build muscle.
My primary success since being here has been my ability to put more weight on the bar than I read when I am standing on a weight scale. My advice to someone who is thinking about joining CrossFit Los Feliz would be to believe in yourself and your abilities to surpass your original goals and expectations, because you can definitely achieve that here like I did!"
– Holy H.
---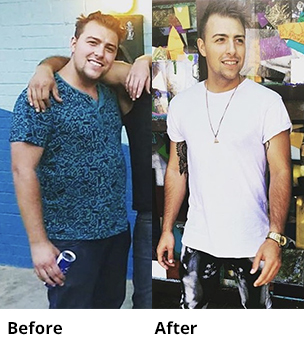 "I started with CrossFit Los Feliz in December of 2016, and at that time I had a lot of goals to improve my life. I was tired of being so out of shape. I would start breathing heavy just climbing the stairs to my apartment. I was the heaviest I had ever been and I wanted a major lifestyle change. I was newly sober and felt that I needed a whole new fresh start, and I found that at CrossFit Los Feliz.
Since I started so much has changed in my life for the positive. When I began I wanted to quit during the warmups, my diet was crazy and I smoked a pack of cigarettes a day. Now I eat better than ever and haven't smoked a cigarette in months. My cardio endurance is the strongest it has ever been.
My primary success since coming here is honestly just that I am happy to have found a fitness program I enjoy. I have had countless wasted gym memberships in the past, and this is definitely not one of them. I have found a way to work CrossFit into maintaining my sobriety in life as well. It's actually become a huge part of my happiness and focus. Starting a sober life was huge for me but I was still missing something, and I have found it here working out everyday at CrossFit Los Feliz.
If someone were considering joining this gym, I would tell them with my experience at first it seemed like the toughest and worst thing in the world, but give it some time and it will become fun and a part of the day to look forward to."
– Thane M.
---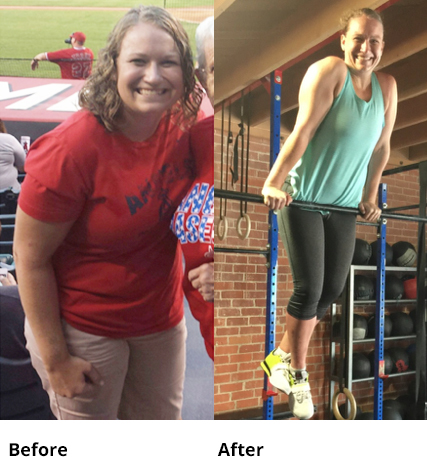 "CrossFit has helped me to regain the confidence to live a healthier life. I work with children with cancer daily and many of my kids do not survive. I used emotional eating as a coping strategy which only caused me to gain more weight and lose my self-confidence. When I started CrossFit, I realized that there are other ways to handle the stress/emotions. I look forward to every day to go to CrossFit before work to get to be ready, physically and mentally. I also have created friendships with people whom I would have never met, who push me through every workout and are by my side outside of work as well."
– Alisha C.
---
"I had no idea, when I clicked that Facebook ad, that I was clicking through to one of the best decisions of my life. All I knew was that I was in a new city with new opportunities, and I was in the worst physical and mental shape I had ever been in, and I didn't want to be that version of myself anymore. I was ready for change, and change I got.
Before I joined CFLF I had never touched a barbell before. I could barely run a few blocks without feeling like I was suffocating. I thought maybe CrossFit would give me too much of a dude-body or something silly like that, and it made me hesitant. I counted calories strangely, not understanding all the workings of my body and the integral part nutrition played. Let's be honest: My "healthy & fit" methods were based on a lot of random articles I'd read online and weird stuff I heard from my friends and teachers.
So I clicked that ad, and I joined the 6 Week Challenge. Then I joined the gym and now I've been here almost two years.
And you know what?
Never, in these two years, was I ever made to feel foolish for where I came from, what I brought to the table, where I was at or what my challenges were. The coaches at CFLF welcomed me in as I was and they worked with me and all my baggage. They demonstrated how to lift weights, and patiently adjusted me, time and time again, when my form wasn't quite right. They made time, out of their own schedules, to answer my questions and give me advice on how to overcome my obstacles and reach my next goal, and then my next goal and then my next goal. That's what they do at CFLF. They help you to achieve your goals.
I could talk numbers if that's what you're interested in: In a year I went from 36% body fat down to 24%. The number on the scale went down almost 15 pounds, then it went back up because, you know, muscle weighs more than fat. But you know what? I lost so many inches off so many parts of my body that I dropped 3 clothes sizes!
However, the most important transformation has been that today I am the strongest, healthiest, most durable, and mentally well I have ever been in my whole life and I am still improving every day!
Every day I am filled with gratitude for CrossFit Los Feliz and all the coaches there for guiding me through this fitness journey. XO"
– Sara Gorsky
---
"I started the 6 Week Challenge at CrossFit Los Feliz in June of 2017. I was driven to join because I used to be an overweight child. After puberty, I was able to lose most of my fat, but it's always been a lot of work to maintain my weight. When I moved from Amsterdam to Los Angeles, I wanted to find a new way to burn off that last bit of fat, have more fun during my workouts and meet new people. Additionally, because I did not get to bike for an hour a day anymore like I did in Amsterdam, I needed to make up for my lack of exercise.
These goals were definitely handled by coming to CrossFit Los Feliz. I stopped my repetitive boring fitness workouts, got to know so many new people and found a structure in my life that balances health and fun! I get many compliments from friends that can tell that my health has been improved.
My primary success after the 6 Week Challenge was a loss of 3.5% body fat and meeting a lot of new great individuals. Being new in town can get lonely sometimes, so knowing that you'll always run into some mates during your workout makes it so much more fun.
For anyone considering joining CrossFit Los Feliz or doing the 6 Week Challenge, I would say just try it out! Don't be afraid of being judged, there is only space for positivity in this gym. After all, we've all been starters (I still am!). If you have the same fun-loving and hard-working attitude, you'll meet a lot of new people that encourage you to meet your goals.
My big, big, big compliments to CFLF, especially to Coach Steven. He's an amazing coach with such a positive vibe and really one of the main reasons I'm a member of CFLF."
– Sebastian W.