Pain Free Postural Alignment Therapy
Are you in pain?
Do you have a chronic injury that prevents you from doing the things you enjoy?
Do want to improve your performance?
Do you get nagging injuries that do not seem to clear up?
Then we may have the answer for you! Pain Free Postural Therapy has a 94% success rate, all without the use of manipulation, drugs or surgery.
We use a method developed by renowned anatomical Physicist Pete Egoscue, used by therapists the world over to put an end to chronic pain, rehabilitate injuries, improve general health and posture, prepare the inactive for more vigorous exercise, and boost athletic performance. Postural therapy is used by people from all walks of life, from pro athletes to the elderly to rid themselves of pain.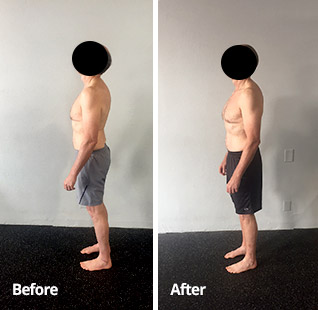 What Is It?
We deal with the body as a whole, as opposed to just the site of the pain. What does this mean? Often, the site of the pain is NOT the cause of the problem. The root cause of a client's shoulder pain may be their hip. The root cause of a client's right hip pain may be their left ankle or their spinal curve. The body functions as a unit and deviations from balanced posture will often result in pain or limitations at a completely different site to the original departure.
Think of pain as your body's way of communicating with you. If your car's wheels were out of alignment, you may find that your tires are wearing out quickly or unevenly, or your wheel may squeal etc. Similarly with the human body. If you deviate too far from alignment, your body will often let you know.The good news is that we can listen to the body, we can take heed of what it's trying to tell us. When we correct the individual's misalignments, the improvement in pain or non-optimum performance is often immediate. Nature's design of the human body is extremely satisfactory. The body's ability to heal itself when given the right conditions is miraculous. But we need to restore alignment, restore it's basic engineering, restore posture – and with it comes your evolutionary inheritance: the ability to run, jump, lift, and be back to your active self.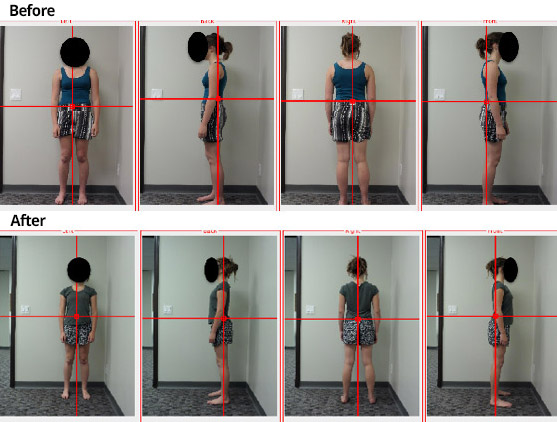 How Do We Do This?
When you come in for postural therapy, you will get a personalized program, tailored by a Pain Free Exercise Therapist certified as a Postural Alignment specialist from Egoscue University. The exercises are designed to take you, step by step, back to alignment and health. Whatever your fitness level, a program can be created to cater to you. The caveat is that you play a role in your own return to a pain free life. This is a good thing!
As opposed to endlessly paying somebody to 'fix' you, wouldn't you rather put your health in your own reach? We will strive to put the power in YOUR hands.
Who Can Benefit from Our Pain Free Therapy?
Is postural work just for people in pain? No!
Improving posture and alignment can assist you to:
feel more energetic
improve performance
improve all systems of the body
improve metabolism
improve respiratory system and
improve the immune system
We have a saying in postural therapy: 'align the body before stressing the body'. If you want to prolong your athletic career, get an edge on the competition, if you want to get the most out of your training, if you want to avoid 'training in' dysfunctional movement patterns – then you must pay attention to postural work.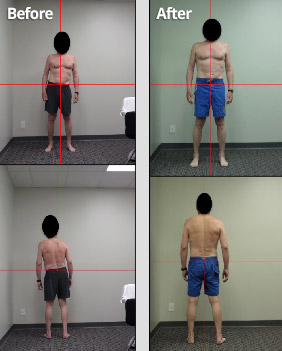 Postural therapy based on the Pete Egoscue's method has been used by various renowned athletes including PGA legend Jack Nicklaus, pro surfer and subject of the Hollywood blockbuster 'Soul Surfer' Bethany Hamilton, NFL stars Marshawn Lynch, Justin Tuck and Brian Urlacher.
"In less than 6 months, I went from barely even able to get myself off the floor to being one 45-pound plate away from a box jump – ALL WITHOUT RE-INJURING MY BACK!!! I've dropped 3 jean sizes, am stronger than I've been in 20+ years.
–
LK
"David has helped me to strengthen my back and go day to day with no pain. I am getting fitter everyday and it's thanks to David."
–
SO
"For many years, I struggled with foot pain – specifically, very tight arches. Then after a year of wearing clogs (which I thought were good for my feet, but weren't), the pain exploded and I could barely walk. I consulted chiropractors with no results. I saw an orthopedist who diagnosed the problem as plantar fasciitis. His recommendations were orthotics and physical therapy. He also injected both my arches with cortisone, which was more painful than childbirth and had no effect on the pain at all. I felt hopeless and exhausted with the constant, searing pain brought on by merely walking across the room.
"… After our very first session, Guy gave me a customized set of 12 exercises to do daily. I could not understand how neck and shoulder exercises would affect the pain in my feet, but I trusted Guy and did my Egoscue series dutifully. Within one week, my pain was reduced by 30%. Over the next few weeks, as Guy had promised, I experienced a consistent reduction of pain in my feet and — at six weeks— I could say the pain was 95% reduced from what had been "my normal" for months.
"Under Guy's watchful eye, my body became more balanced and my foot pain completely subsided. I was able to go back to playing tennis and jogging. I threw out the orthotics and have never used them again. Now, five years later, I continue to practice my Egoscue series and enjoy a pain-free, active life. I always recommend Guy to anyone who struggles with plantar fasciitis and I will always be grateful to him for teaching me about my body and how to help myself whenever physical pain threatens to interrupt my life. With many thanks." – SB